I've decided to join my first blog parties. I hope I am doing this right. I am learning more and more everyday about blogging. Now if only I could figure out picture posting, I'd be one happy lady.
I have joined up with:
Vintage Thingies Thursdays with the very kind
Suzanne
aka
Coloradolady
.
And in the same vein I joined Leigh's party at
Tales from

Bloggeritaville
for Thrifty Thursday.
There are fantastic things to see at both. I have included their buttons below and in my sidebar. I love seeing
everyone's
treasures. We all find such a different assortment at our different regional thrifts or
whatnots
. Please go and enjoy the finds at Vintage Thingies Thursdays.
Anyhow, here is a look at some of my nifty thrifty finds...
I don't really get into Valentine's Day in a romantic way BUT my mom always gave us a
lil
something on Valentine's Day to remind us she loved us. It's a wonderful opportunity to remind my children and even Mr. Nifty of how important family and loved ones really are.
So anyhow...on a recent
treck
to my local Habitat store I spotted this here
lil
basket. I assume someone not too long ago made this with a generic crafting basket. I can't tell if this someone used real vintage Valentines to decoupage or reprints. I can't find dates, only made in the USA on some of them. I shall assume they are not vintage. The buttons decorating the handles do look vintage though. It was charming and I paid a whopping 50 cents for it. :)
My 5 year old daughter claimed it. Can you blame her?
It had a surprise matching box tucked inside and also had a coaster size doily too.
Next nifty find is my chippy
lil
Shriner planter. Isn't he a handsome
ol'
bloke? His paint has obviously seen better days, but strangely enough his face is handsome as ever. Frankly his man-makeup is more artfully applied than my own :) He needs a name, but I am drawing a blank...any ideas?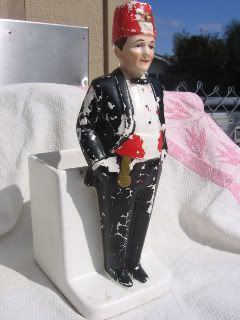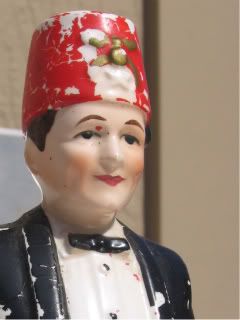 ::::Drum roll please::::
My absolute favorite thrift store find EVER, looks vintage to me and
squeaks
like an oldie, but don't know how to tell exactly. Do you?
The reasons I am left to wonder: there are no markings that I can find. I think it did say USA on one of the metal pieces, but no labels or companies. Secondly the distressing on the back seems a bit off to me. It seems to all be concentrated in the back. Is that normal? What do you think? I know reproductions are made, so if anyone knows the difference please drop me a line. Either ways she is beautiful and I certainly wasn't robbed. I declare her the niftiest find yet.
After the pics I'll tell ya what I paid for her...and yes, she is most
definitely
a girl
cuz
she is so
perty
:)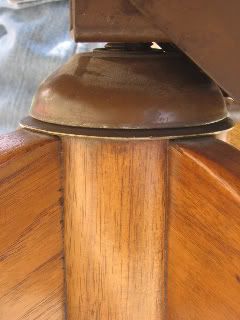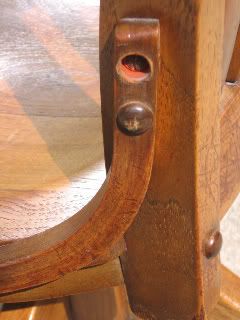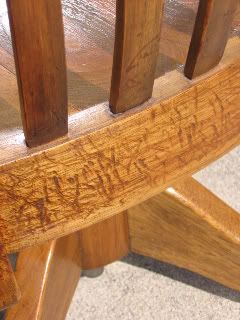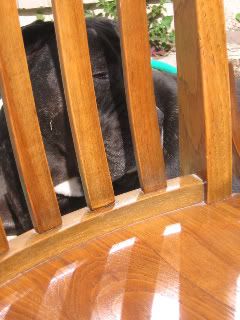 (That's my 125lb
Neapolitan
Mastiff getting a tan in the background :)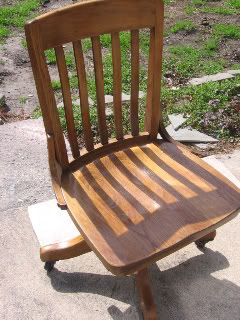 Isn't she glorious? The desk chair I was using was an
embarrassment
. My cats made a scratching post of my old chair. It was literally dropping stuffing everywhere courtesy of those evil
furballs
. The
thrifting
gods were kind and sent me this divine intervention. Hopefully the cats won't find a way to claw this one though I wouldn't put it past them.
PS...she was $4.99. How's that for a bargain?
Anyhow thanks for stopping by and hope to see you again :)
~Brightest blessings~
Karina aka
thasnifty