I went to my first auction this weekend. It was a good learning experience, but I came home empty handed.
. Even worse is, I didn't think to bring my camera. Fret not, I will always bring my camera for such occasions from here on in.

I was outbid at $8.00. Yes I said, EIGHT dollars. This was a storage unit auction so they don't work like traditional auctions. I had gone for the purpose of just seeing what it was like. I was shocked no one was bidding on what seemed to me the only lot with promise. I do not lie when I say that I watched someone bid on a particle board entertainment center that was literally falling apart. The lot that this "gentleman" bid on also included one piece of generic tupperware and a bottle of some sort that had magazine pictures of rappers cut out and glued onto it. I assure you this travesty of crafting was not worthy of being called decoupage. But it made for a nifty title. It was not skillfully done and was probably a high school art project or something. Anyhow, the lot went for 15 dollars. (TWO people actually bid on it.)I was aghast but riveted. I was now hellbent on seeing what weirdos actually spent real money on.

Someone actually bid $3 on a mattress set like nothing I have ever seen before. I do not exaggerate when I say that it looked like not one, but maybe 5 or 6 people might have met an unfortunate death on that bed and quite possibly by grenade or some such equally messy means. It was so bad, that even the rapper bottle buyer, looked over to see who actually bid on it. but even worse is, it too had two bidders, cuz the bidding started at 1 and ended at 3. ugh.

Then came the lot that had the cool looking stuff. This unit was split into a few lots. I liked the one with boxes of goodies. I saw china, Pyrex, linens, papers, glassware, kitchenware and other stuff. I was thinking that the resellers and dealers would be bidding on this stuff for sure. (I had seen two of our local dealers in the crowd) The auctioneer started at $5, and nothing. I looked around the crowd of about 30 and I saw a few people yawn. $4, nothing, $3, nothing, $2 nothing, $1 nothing....up goes my hand. Mr. Nifty looks at me rather surprised. Suddenly a lady across the way decides she wants the lot too...ugh. I briefly considered saying WTF loudly, (but with real words) when I thankfully I remembered I was in a crowd. Maybe shoving her would stop her?

Before I knew it, my heart was racing, palms were sweating and I sooooooo wanted to keep going. But I hadn't planned for it, had no idea when I should stop or how much I should spend. I panicked when she bid EIGHT FRIGGIN DOLLARS. I turned around and walked away.

Mr. Nifty was impressed at my self control. It was not self control it was mostly stage fright. Auctions are dangerous places. I can see that I would have easily kept bidding. I literally left the auction, and in a bad mood to boot. lol. I was robbed. I think I would have cried if I'd seen that woman opening the boxes that were almost certainly full of precious goodies.

I think auctions might be a lil too anxiety provoking for me. I was able to redeem myself by finding some great stuff at a yard sale later that day. I'll post those pics later this week, so keep a look out. Next I'll have to learn about estate sales.

Ok so it's been a pretty long time since I posted. I honestly haven't posted because I had not taken pictures of the stuff I had found thrifting and such. But let me explain, I was getting increasingly frustrated with how horrible the pictures were on my blog. I read up on picture taking and finally had a marathon picture taking session. So here is a few of my latest finds...

a bushell basket, a ram planter, a made in England peerage style pitcher...




here's a closeup of the stein, it's some sort of old advertising mug. I got it for 25 cents and the two toile napkins were 10 cents...




I lurve the colors of the toile. One is badly stained though with mysterious brown stuff, rust, age, ????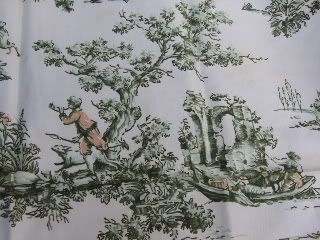 I also found this fantastic wire basket, pretty figurine for my daughter's room, one solitary glove, and some sort of very small hanging dowel. Anyone know if that has specific purpose? I think I paid 1.00 for everything.




I wonder what is supposed to go in the hole in her hand? any ideas?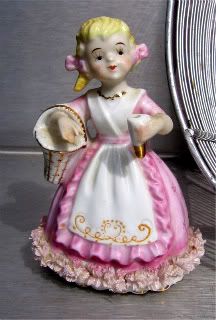 And last but not least for today....here is a closeup of the kitchen towel that I found. Aren't the pink birds soooo very sweet?