Wanted to show you my two favorite rescues this holiday season. I freed them from the dark dingy clutches of my local Habitat store.
First are these "Christmas Package Decorations" that I am assuming are meant to be the three kings. I found these about a week ago. I believe they have spun cotton heads but am new to this, so I could be wrong. I paid a whopping 10 cents for em, which is quite a markdown from their original 38 cent price AND look at the great Santa graphics on the packaging! Beautiful!
Fantastc lil find eh?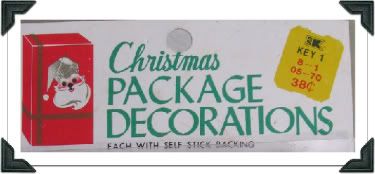 Then I noticed it...my lil kings seemed to have an ummmm upside down smile...and by upside down smiles I mean they look more than a little hostile.
Have a look. I'll wait for ya.
need a closer look?
Maybe they resent the fact that they were stuck in that packaging for all these years, never to adorn a christmas package as they were intended. I've explained to them that now they will reside in a place of honor in my living room, where their lil faces will hopefully bring a chuckle to those that look close enough. I think deep down they are happy...
really deep down.
Afterall, what's Christmas without a little "Bah Humbug?"
My second favorite rescue is this bunch of tiny vintage glass ornaments on pipe cleaner. They are small, don't let the picture fool you. I know this is not the proper name for them, I just can't recall what they are called...anyone care to refresh me? Anyhow...I almost stepped on one at the habitat store, ugh. I started looking in the vicinity and saw an ugly basket with some hideous newish christmas stuff and spotted some sparkle, started pulling out the ugly new stuff and found several more at the bottom. Thankfully it was a small wastebasket and I pulled out all of these. I didn't see anymore on the floor and was pretty pleased with my lil treasure. Another whopping 10 cents. :)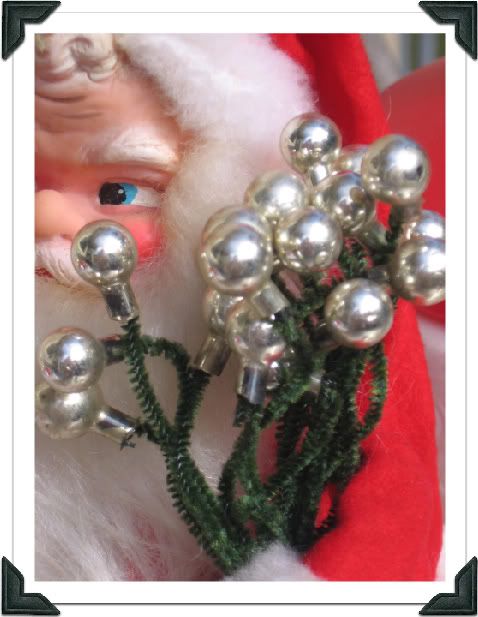 Funny thing is, I wen't back today and scored a few more pretty things, and low and behold spotted another one of these tiny pretties on the floor in another part of the store. I wonder how many more are lurking in the back.