I guess I'll start this blog's first post with my reason for entering blogland. I have some deep issues where Christmas is concerned. Well my husband thinks they're deep issues. Frankly, I admit to loving virtually everything about this most wonderful time of the year. I love everything Christmas represents and am often slightly aghast when others are not enthusiastic about such a magical time.
I feel most alive in December. I remember to enjoy every day a little more, to hug my kids a little tighter, to appreciate the fact that hubby is willing to climb on the roof just to give me the lights that I cannot imagine not having up.
(How else will Santa find the house?!)"Its the most wonderful time of the year....It's the hap-happiest season of all!"
One of my other great loves is bargain hunting by way of thrifting, garage sales, curb crawling, etc. I've had some good luck finding some gems this year. I love thrifted Christmas stuff! A little chip here and there rarely phases me, especially not where Christmas things are concerned. I like the vintage pieces not because of their value (
trust my collection is worth pretty much what I paid for it
), but because I can only imagine how many Christmas mornings these pieces have been a part of. A little ding is just a testament to everyday life. Along with their nicks, chips, dings and scratches they bring a wonderful sense of history. Anyhow...let me introduce you to a couple of my thrifted treasures...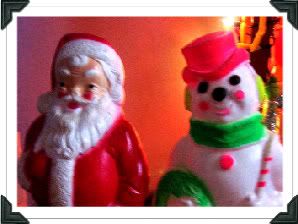 My first buys of the season. These little guys are 13" mini blow molds made in 1968. As they are labeled for indoor use only, I found them a lil corner of my living room where they oversee all the other Christmas thrifty friends that are gathered nearby. They make me smile just looking at them...and the $1.00 price made me smile too :)
This sweet singing angel bell is sweet as sugar cane. My daughter likes her because she has fancy gold wings. My son likes her because she's a bell and he really digs bells. I like her cause she's pretty and she was only 50 cents :)