Well I found some goodies this weekend. Darling Mr. Nifty took me shopping for last minute Xmas gifts and well I ended up shopping for me, A LOT. He took me to Jacksonville and as I won't drive that far unless I really really have to, I was thrilled to get out of the confines of my 3 miserable lil thrift stores. I hit the flea market, 3 or 4 garage sales and 3 different thrift stores.
Here is just a small part of my haul...(oh and sorry for the pics, I am just getting home too late from work to take a decent picture.)
At a garage sale I found this pretty lil pair for 25 cents each. Their faces and other details have a shiny glaze but the rest of them is semi gloss. They are a beautiful emerald green. I love them! They remind me of my dear and very missed mother whose birth stone was emerald. (plus I got all the trees on the cake stand for between 10-50 cents each. Some are vintage some are newer. the cake stand was a whopping $3.00 and my most expensive buy this weekend!)
I got this tray for 25 cents and thought it was soooo perty. I am still not quite sure where I want to put it, maybe next year I will find a decent place for it. It seems to get lost in all the Christmas clutter :)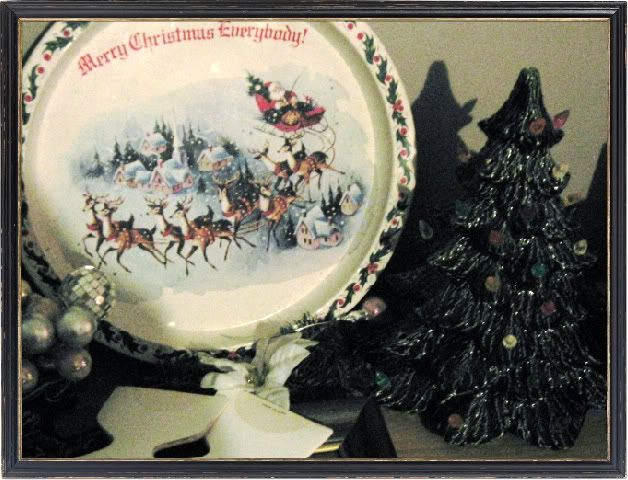 Oh the ceramic tree was 50 cents, no chips and almost all the bulbs were there. I took the loose ones off, and put em in a bag for safe keeping for now. It had no light fixture. I want a white one now :)
The empty Shiny Brite box came out to 50 cents. (the cellophane is a lil ripped at the bottom) and I filled it with ornaments that needed safekeeping and display place all at once. :) I have yet to find a Shiny Brite but I am pleased with the other vintage Christmas ornies I have found. No complains.
"Mr Christmas" Glass Ornaments in the box were 25 cents and green Made in Japan ceramic sleigh for 50 cents were both from the Humane Society Thrift Store (all Xmas stuff was 50 percent off)
Stenciled atomic symbol ornament 10 cents at the flea. (dome in the front)
Made in Poland indent (the pink and purple one under the dome in the back) was 10 cents at a thrift.
Pack of vintage gift tags that is unopened was 25 cents at the antique mall. (Mr. Nifty won't let me open it, ugh) I can't see the other designs in there otherwise. :(
I might not have a feather tree or a lovely aluminum one, but I did find this at my last stop of the weekend...
It's pretty eh? I paid one dollar for it. It just need a lil fluffing (and a lil glue)It's plastic of some sort with glass or plastic pieces all over and glitter in there too. Hard to explain. But it sparkles and will look so pretty with more sparkly stuff next year. I need to glue her a lil stronger before I can hang ornies on her. She is glorious all on her own. Oh and the lil doohickies next to her base I found at the flea for a buck. Mr. Nifty said they're tacky, but I don't think he really meant it. :)